About Us
When you need the best to look your best, that's what it's all about! Your journey with us, your results and seeing clients fundamentally changing because of the steps they made with us, is why our commitment to excellence with each treatment is so important. For anybody who is doing their research or has spent months, if not years thinking about it. Trying to find the results you need, the right practitioner, company or even looking for someone similar in photos on websites as well as the financial costs. All these things can get quite stressful and become a job in itself!
Making contact and having the consultation is the first 'STEP' to being more empowered! At Replokate, we will make sure you know it was the right decision to have made. Practitioners at Replokate are fully trained and qualified to a gold standard in Scalp Micropigmentation Treatments, which is recognised throughout the SMP community both here in the UK and internationally as the bench mark in standards. Combining this with qualified professional creative talent, can only lead to amazing results and peace of mind for every client.
Alex Baynes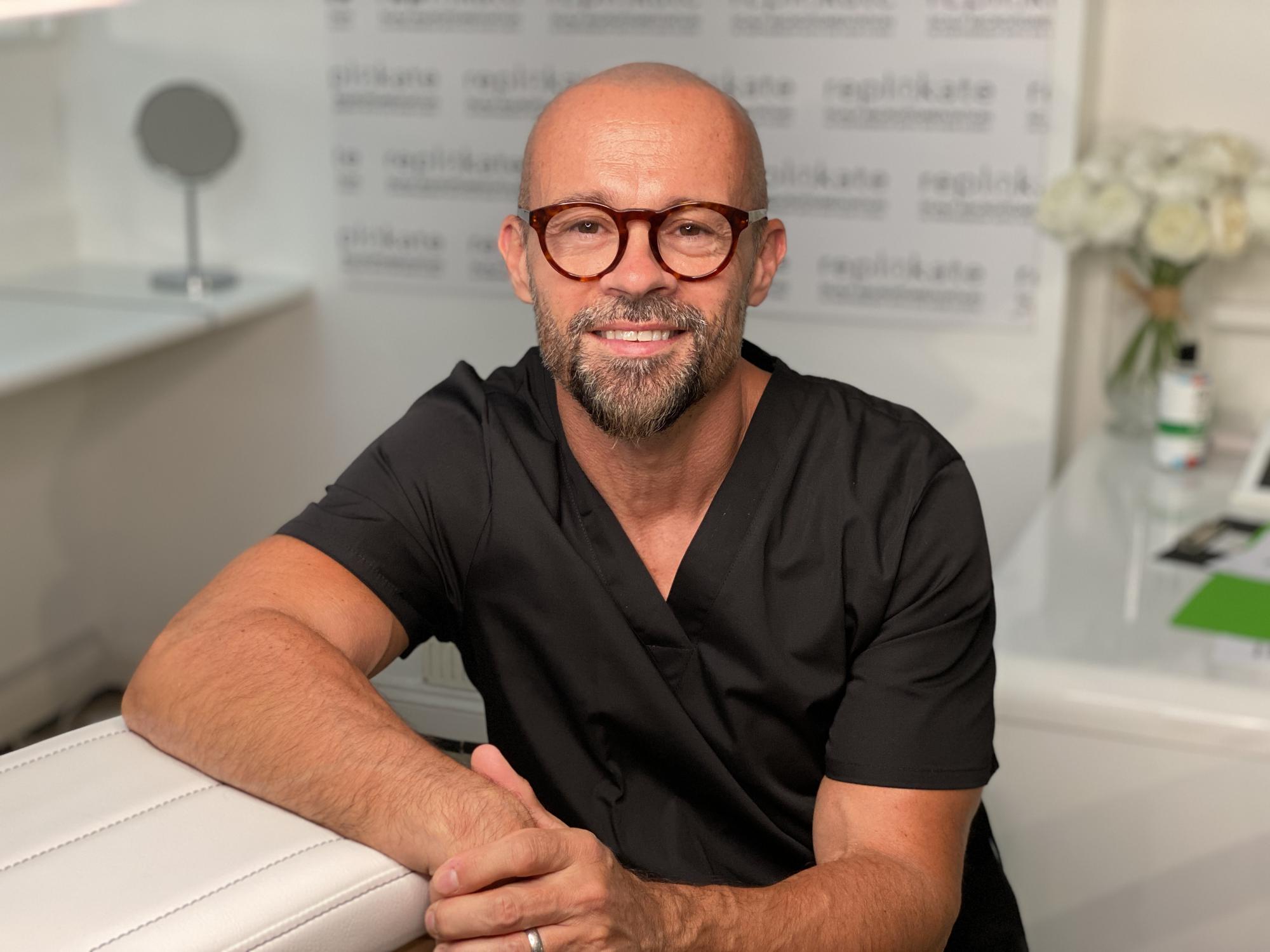 My journey into the Scalp Micropigmentation world
I suffered from hair loss in my early twenties. This happened gradually but the effect on me was devastating. I went from being a confident, outgoing guy to being withdrawn and feeling low about my appearance, and never felt brave enough to have a hair transplant, and so went down a path of covering & concealing my imbalances for years which just equalled into more stress!
Nearly 20 years of trying different strategies to help with my ever-receding hairline passed. In 2013 I came across an article in a magazine about a revolutionary new non-surgical treatment called 'Scalp Micro Pigmentation' or (SMP) that was having amazing results! And when I saw the pictures I knew this was exactly what I was looking for. 
I did my research went to the company that had been at the forefront of SMP HHC, and had been based in Harley Street since 2002. I went for my consultation had 3-4 sessions and the rest is history!
I wanted to pay it forward!
After having the treatment and feeling and seeing the results, I was hooked!
I knew I had to get involved in the industry and so jumped in head first, spent nearly a year getting trained and certified with an SMP academy, following on to working with the leading company I had my treatment with Working in London's Harley St, and Birmingham before moving to the south west in 2016 to set up my own practices.
An added advantage was coming from a background as a professional fine art artist for more than 25 years, with an eye for detail and a drive for innovation within the applications and processes and without any sense of doubt a new journey had begun.
Certification & Validation
My passion to deliver great results is just how I tick! 
Know a fully certified approved practitioner with certificates in basic and pro advance levels from The SMP Academy HHC and advance ongoing certifications in Needlestick & Sharps, Bloodborne Pathogens, EFATW, with Approved clinic status, Duty of Care certified (W) awarded for customer service with registered needle licences to practice in three county's in the south west. A keen member within SMP industry platforms for ongoing innovations with my goal to keep building on the hardwork achieved year on year and with clients fantastic support with Google 5 star client feedback reviews.
Get in touch
By Phone
By WhatsApp
By Email